Personalized Autism Awareness Necklace
---
---
---
---
---
Personalized Autism Awareness Floating Photo Memory Locket
---
---
There is nothing like a caring heart to offer love and support where it's needed most. Now, wear a tribute to those affected by autism with this Personalized Floating Photo Autism Awareness Memory Locket, a fine jewelry exclusive from The Awareness Expo . This stunning locket will be personalized with a photo and birthstone of your choice so that you can keep your loved one close to your heart.
---
---
---
---
Wear an Inspiring Expression of Autism Awareness
---
---
Handcrafted in a heart shape surrounded by clear crystals sits your Inspiring floating charms, these include's a floating photo charm that symbolizes who you support on the autism spectrum, a birthstone which represents the month of the individual's birth, and a colorful floating autism heart.
This meaningful autism locket is plated in gleaming sterling silver, and along side hangs a silver jigsaw puzzle piece charm. It suspends from a matching sterling silver rope chain. The different colors and puzzle shapes on this one of a kind necklace represents the diversity of those living with autism, and the brightness of the locket signals hope that through increased awareness, early intervention and appropriate treatments, people with autism will lead fuller, more complete lives.
---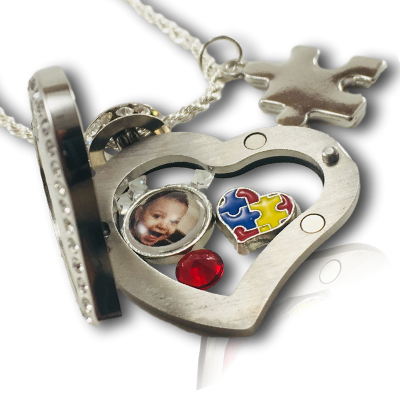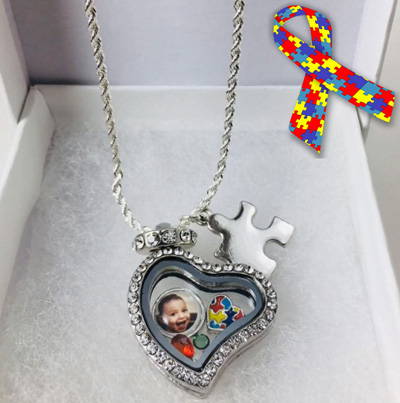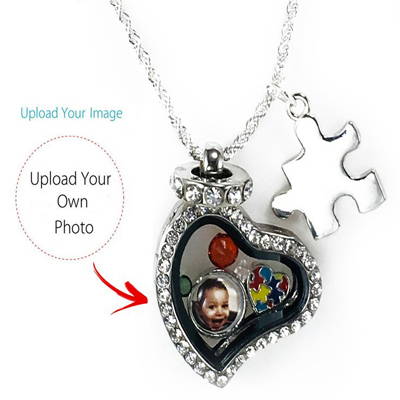 ---
---
---
---